Purpose: To raise financial resources for Grand Aspirations to sustain and expand programs. Maintains and manages toolkits, grant databases, and membership system that are used by local teams to better resource Grand Aspirations.
Selection criteria: Several of the roles on the Resources Team require advanced skills, but volunteers who are committed to learning and willing to help are welcome. Must be familiar and comfortable with remote phone and online work to coordinate with other team members. Time commitment is around 5 hours a week.
Primary responsibilities and objectives:
Define the organizational annual budget and fundraising strategy

Research national, regional, and local grant opportunities and maintain a grant database

Write national grants and sustain foundation relations to grow the organization's national funding base

Manage and grow a membership campaign engaging local teams in recruiting members

Respond to requests from local teams on fundraising or grant writing strategy

Coordinate with the Board of Directors on building foundation relationships

Develop other national fundraising initiatives as identified by the team
Roles on team:
Grant Writer: A volunteer, intern, or stipended position filled by someone experienced in writing successful major grants (above $25,000). Point person on writing major grants.

Membership Recruiter: A volunteer, intern, or stipended position filled by someone experienced with recruiting members to a group or organization and training other GA leaders to make membership invitations including small financial asks.

National Administrator: The National Administrator staff position serves on this team to maintain accounting and other fiscal administrative services, reporting to the team when information is required, and coordinate management of organizational systems.

Additional interns or specialized volunteer roles focusing on helping find, write, and/or edit grants, recruit members, or develop other fundraising strategies are welcome. These positions do not require prior skill other than effective communication (verbal for membership recruitment roles, written for grant roles), and will assist the point people.
Skills gained: Understanding and developing a budget and an organizational fundraising plan. Specific skills in grant research, writing, editing, and management and/or membership recruitment. Financial literacy and management skills.
Profile of a Resource Team member: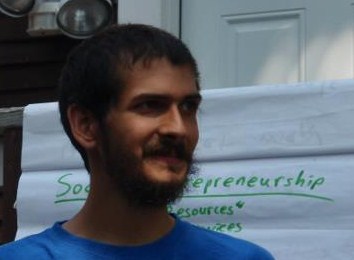 Hi, I'm Timothy DenHerder-Thomas. I live in Minneapolis and spend most of my time doing community outreach to help groups of neighbors save energy at home and create clean energy through the energy co-op I helped found and a city-wide campaign to explore alternatives to our current energy companies. I've served on the Resources Team off and on since 2009, and it has been an incredible experience in learning the grant-writing and foundation process, getting familiar with organizational budgeting and financial management, and helping think through how we transition social change work towards revenue generating strategies over time. Generating resources is a key step in all work to make a better world, and being on this team provides essential experience in that skill. Please consider joining the 2013-2014 Grand Aspirations Resources Team, and feel free to contact me if you have questions about doing so: timothydht@gmail.com, (612) 250-1621.
How to apply: Fill out an application using this online form: https://docs.google.com/forms/d/1ouvQlP2T1Cn3QdkdBIRXUSRNqC7N2W-bxhzkyd6J_rQ/viewform