About Us:
Summer of Solutions Hartford is a food justice and youth-leadership-development program located in Hartford, Connecticut.  We are a youth-led organization that offers training in leadership skills, community organizing and urban agriculture.  One of our primary objectives is to empower young people as innovators in social justice movements and the green economy and give them the tools and experience to create their own solutions to environmental injustice.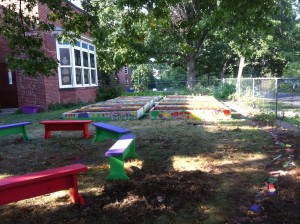 Many areas of Hartford have been designated as a "food desert" due to the lack of grocery stores, markets, and stores selling produce.  Moreover, the absence of reliable public transportation and the fact that most households do not own their own vehicles prevent residents from increasing the options and quality of food available to them by shopping outside the neighborhood.  Our organization is committed to addressing food injustice – the broader structures that restrict access to healthy, affordable and culturally appropriate food.  We work primarily in the Frog Hollow neighborhood of the South End.

Summer of Solutions Hartford began in 2010 and ran its first summer program in 2011.  Our 2011 program brought together a group of 8 young adults, primarily from Hartford and Hartford County, to learn leadership and community organizing skills.  We partnered with the Southside Institute Neighborhood Alliance, Hartford Areas Rally Together, the Somali-Bantu Refugee Community Center and the residents of Zion Street to build a new community garden in the Frog Hollow Neighborhood.  In 2012, we recruited a team of over 20 full and part-time participants, ages 15-23, and offered training in cooking, gardening, community organizing, and anti-oppression.  We started partnerships with Trinity College, the Annie Fisher Montessori School and COMPASS Youth Collaborative to expand the new Broad Street Community Garden and create new school garden programs at Annie Fisher Montessori School and Burns Latino Studies Academy.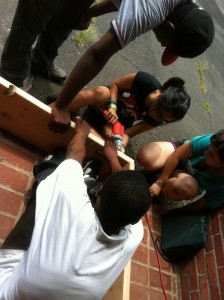 Community Gardens
The Wesley Colbert Zion Street Community Garden- a 1/3 acre garden with over 100 raised beds available to the Somali-Bantu Refugee Community and the residents of Zion Street
The Broad Street Community Garden- a new garden with over 30 raised bed plots available to the greater Broad Street community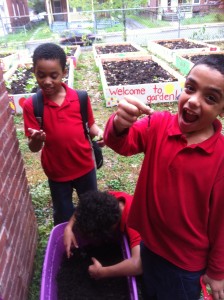 School Garden and Environmental Education Programs
The Annie Fisher School Garden Program- a 1/2 acre student garden and 6-week environmental-educational program for summer-school students
The Burns School Garden Program- 20 raised bed plots, an outdoor classroom and a 6-week environmental-education program for COMPASS students
A free recreational and educational summer-camp for 10-20 children ages 5-12
Free community programs
Potluck lunches and dinners
Memorial services
Community arts projects
Open mic music and poetry nights
Support:
We are excited to continue to build our program in 2013, recruiting more participants, teaching new skills, and expanding to more project locations. 
You can support our work by donating over pay pal, contributing to our IOBY campaign, or mailing a check!
Donate via Pay Pal here:
OR contribute to our IOBY campaign here:
https://www.ioby.org/project/summer-solutions-hartford
OR mail a check to: 
Grand Aspirations
c/o Jennifer Roach
96 Henley Way
Avon, CT 06001
For "Summer of Solutions Hartford"
Thank you very much for your support! Be sure to follow our blog this summer to see how your donation makes a difference!
Media:
twitter.com/soshartford