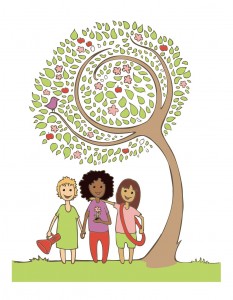 Full Circles Foundation (FCF) is a long-term, holistic empowerment track in the Southeastern United States for girls with high potential who face institutionalized obstacles—present or anticipated—to their health, economic security, and/or domestic safety. Through our community-driven programs, we grow "strong girls, a fair economy, and a healthy earth."
In Summer 2011, we launched our pilot program in Raleigh, North Carolina with the "Strong Camp" series. Strong Camp is a community-powered summer camp with day and residential components where girls explore the importance of and connections between having "strong selves," "strong neighbors," and a "strong home" (Earth). This series of summer day camps provided ris
ing kindergarten, sixth, and ninth grade girls with hands-on, age-appropriate instruction in personal health and wellness, creative communication, civic efficacy, environmental literacy, and social entrepreneurship.
For Summer 2012, in addition to hosting our second Strong Camp series in Raleigh, we also launched a pilot program in Lexington, Kentucky for girls between the ages of 11 and 15. The Lexington program partnered with Transylvania University, the Tuska Center for Contemporary Art, Planned Parenthood, skirt! magazine, and numerous other community organizations and artists to offer two three-week sessions of the Strong Camp series.
Both camps will be returning with programming in the Summer of 2013, and we're looking for some great instructors to join the team! FCF Program Instructors spend their summer both learning and teaching.  As a camp instructor, one will help develop curriculum, nurture local partnerships, generate resources, and build relationships with campers and their families.  Camp instructors will also gain new skills and insights, practice the Grand Aspirations Solutionary Method, and enjoy a community of empowerment.  It will be a demanding, but transformative experience.
We hope to read your application soon!
For more information, visit www.fullcirclesfoundation.org or contact the 2013 Lexington program leaders below.
Program Leaders
Lindsey Jagoe: lindseyjagoe[at]gmail.com
Anna Melnykovych: annamelny[at]gmail.com
Amahlia Perry-Farr: odysseyqueen[at]gmail.com