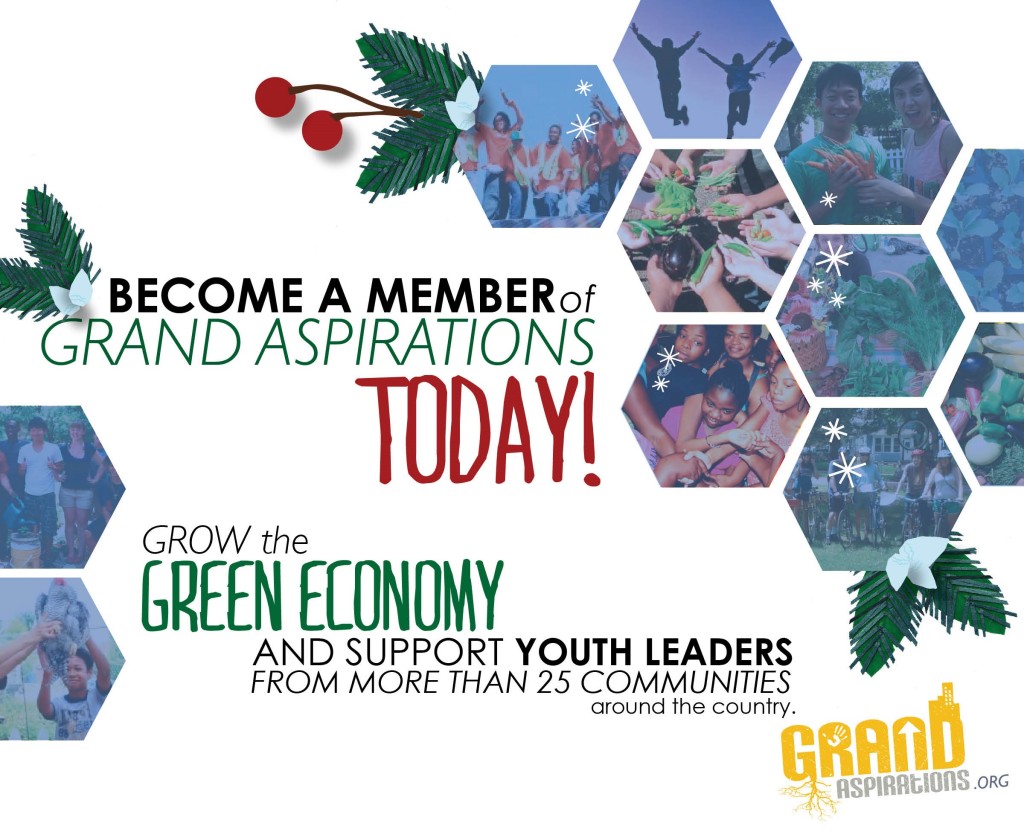 Grand Aspirations is a member-led organization that empowers youth leaders across the country to build sustainable communities. If you or someone in your life cares about the work that Grand Aspirations does, the single best way for you to support our work is to become a member today.
Members make a convenient, ongoing monthly contribution that directly supports our training and programmatic efforts. Your sustained membership contributions allow us to better predict our budget and be less reliant on grant funding so that we can focus more on the important work at hand. National membership contributions go to support:
Our national Program Support Team, which provides training and technical assistance to local programs

Travel scholarships for National Gatherings

Administrative support for local programs
All members are given voting rights in the annual election of Grand Aspirations' Advisory Council and Board of Directors.  Additionally, members can receive the following benefits at different membership levels:
$5/month- Entry Level
Subscription to the quarterly Solutionary Newsletter and addition to the email list for any local program you choose to support.
$10/month- Solutionary Level
All of the benefits of the previous level, plus:

Your name featured in the newsletter for the month that you join

$20/month- Changemaker Level
All of the benefits of the previous level, plus:

A personalized letter of thanks to you sent on behalf of the national organization and the local progra

m
$30/month- Spotlight level
All of the benefits of the previous level, plus:

Your name featured on the website thanking you for your contribution, as well as the name of any program or individual you dedicate your membership towards.

$40/month- Marquee level
All of the benefits of the previous level, plus:

A solutionary leader in your life who you dedicate your membership towards will be featured as part of the "Solutionary Leaders" series on

our blog

. A great gift option!

If you would like to support one of Grand Aspirations' local programs with your membership, you can dedicate your membership to that program and 80% of your membership contributions each month will go directly to that program. If you would like this, make sure you select a local program from the list below the PayPal button.
| | |
| --- | --- |
| Make a monthly subscription | Pre-pay for a 1-year membership |
| | |
The list of local programs you can support in 2014 with your membership include the following:
| | | |
| --- | --- | --- |
| Budapest, Hungary | Middleton, WI | |
| Chicago, IL | Milwaukee, WI | Silver Spring, MD |
| Hartford, CT | Morgantown, WV | Sofia, Bulgaria |
| Highland Park, MI | Oakland, CA | Twin Cities, MN Hub |
| Iowa City, IA | Northwest Institute for Community Enrichment (NICE) | Twin Cities, MN Summer of Solutions |
| Johnson City, TN | Portland, OR | Washington, DC |
| Little Rock, AR Summer of Solutions | Puerto Rico | West Virginia |
Monthly member contributions are managed safely and securely through PayPal and help us sustain our programs and reduce our time spent fundraising. However, if you would prefer not to make an automatic monthly contribution, you can still make a tax-deductible donation on our Donation page.
Thank you for supporting our programs!
BLANK