Full Circles Foundation is a long-term, holistic empowerment track in the Southeastern United States for girls with high potential who face institutionalized obstacles, present or anticipated, to their health, economic security, and/or domestic safety. Through our community-driven programs, we grow strong girls, a fair economy, and a healthy earth.
In Summer 2011, we launched our pilot program, "The Strong Camps," in Raleigh, North Carolina.  "The Strong Camps" was a series of summer day camps for rising kindergarten, sixth, and ninth grade girls, including Strong Self Camp, Strong Neighbor Camp, and Strong Home Camp.  The camps included hands-on, age-appropriate instruction in personal health and wellness, creative communication, civic efficacy, environmental literacy, and social entrepreneurship.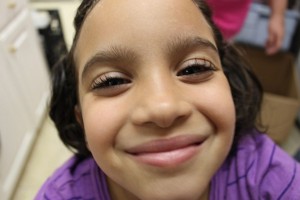 For Summer 2012, FCF is proud to announce that in summer 2012, in addition to hosting our second Strong Camps series in Raleigh, we will be launching a pilot program in Lexington, Kentucky. In Lexington, the FCF team will be working with girls ages 11 to 15. They will be partnering with Translyvania University and the Tuska Center for Contemporary Art to offer the Strong Self, Strong Neighbor, and Strong Home camps. Writing and fashion design workshops with local artists have already been confirmed.
Program Instructors will spend their summer both learning and teaching.  As a camp instructor, one will help develop curriculum, nurture local partnerships, generate resources, and build relationships with campers and their families.  As an instructor, one will also gain new skills and insights, practice the Grand Aspirations Solutionary Method, and enjoy a community of empowerment.  It will be a demanding, but transformative experience.  We hope to read your application soon!
For more information, visit www.fullcirclesfoundation.org or contact the program leaders below.
Program Leaders
Austyn Gaffney aegaffney12 at gmail.com
Lindsey Jagoe lindseyjagoe at gmail.com