Why Middleton?
Middleton is a thriving town with many progressive values, but there are currently no developed school garden programs in place and the City of Middleton offers no summer programs that give students of multiple ages the opportunity to engage in environmental education, activism, and food production.  The garden will also serve as a space where multiple age-groups (post-college, college, high school, middle school, and occasionally elementary school students) will interact, teach, and learn together.  The multi-age focus of our program is unique and will create a greater sense of community in Middleton while at the same time encouraging students to continually rise to the next level of responsibility and leadership.  After the summer, we plan to continue the use of the garden into the school year, collaborating with teachers to find ways to incorporate the garden into their classroom education goals.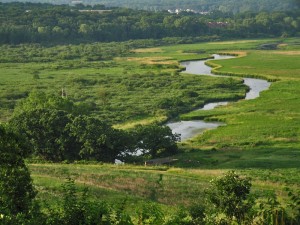 Program Goals
- To provide Middleton youth with a safe, productive space to spend time during the summer
- To strengthen the community by creating multi-age mentoring relationships
- To empower youth to grow food for themselves, their families, and their community
- To involve youth in learning about sustainability through outdoor environmental education and working in the gardens
- To increase the use of people-powered forms of transportation (specifically, biking and walking)
- To develop, train, and support new youth leaders
- To supply the Middleton Outreach Ministry Food Pantry with abundant organic, locally-grown produce
- To incorporate the gardens into the curriculum of Middleton High School and Kromrey Middle School
Program Projects
We are designing and running a sustainability and environmental education program primarily for middle and high school youth that focuses on gardening and food production but also incorporates art, people-powered transportation, and multi-age relationship building through teaching and mentorships.  The program's home base will be the gardens and greenhouse, located on public school land in central Middleton, where we will hold the majority of the workshops and host open garden work hours.  However, we will also expand our work into the greater Middleton community.  Some of our ideas include running a kids activity table and possibly selling some of our produce at the Downtown Middleton Farmers' Market, taking group bike trips to the nearby Bock Community Garden, and delivering (by bike trailer) a percentage of the produce we grow to the Middleton Outreach Ministry's food pantry.
- WORKSHOPS: Workshops will incorporate a variety of sustainability topics and will often use the garden as a hands-on classroom.  Students will learn basic gardening skills such as bed construction, seed starting in the greenhouse, composting, transplanting, caring for plants, maintaining the garden, harvesting, washing, and distributing produce.  We will also discuss and put into practice topics such as nutrition, the nutrient cycle, alternative transportation, water conservation, energy efficiency, and we plan to host several cooking classes at the nearby Willy Street Co-op.  All of this will help connect the garden to the larger issues of sustainability, health, and justice.  Personal expression through art and writing will be a part of every workshop as well.  We will incorporate garden-fresh snacks as often as possible, and participating students will have the opportunity to bring fresh produce home to their families on a regular basis.
- OPEN GARDEN HOURS: Summer of Solutions leaders will be present at the garden or the greenhouse at specified times beyond the hours of the structured workshops.  This means that students will be able to spend additional time at the garden based on their level of interest.  The garden will be a safe, supervised space, where parents can feel comfortable leaving their kids and where kids will know they can interact with a supportive adult.  We hope that this flexibility will 1) make it easier for families to have their kids participate in the workshops (since parents could drop them off later or earlier according to their work schedules), and 2) provide an easily-accessible space in central Middleton where unsupervised kids could come participate in constructive work and learning.  During Saturday drop-in hours, we will specifically encourage families to visit the garden and may provide family-based programming during this time.
- LISTENING SESSIONS: Leading up to the summer, we plan to host a number of listening sessions for all groups involved to collect information on what people want our program to include.  For example, we will ask students what they are interested in learning, what level of responsibility they want to be given, and what foods they want to grow.  We will ask parents, teachers, and community members to identify needs within the community that our program could fill as well as to share with us their unique skills and resources that could benefit our project.  If you have suggestions, ideas, or ways that you would like to help our project, please don't hesitate to let us know by posting on our facebook group or sending us an email.

Contact info
Website: http://growingfoodandsustainability.wordpress.com/
Facebook group: http://www.facebook.com/groups/127826613995044/#!/groups/127826613995044/
Email: GrowingFoodandSustainability@gmail.com
Donate to the 2012 Middleton Summer of Solutions program!