What are the basics?
In the fall of 2010, volunteers with the NICE convened a new team of young community organizers in Portland, OR.  This team has since developed and tested the Neighborhood Enrichment Program in the Sabin neighborhood.  This program builds on the NICE's Community Enrichment Program model and:
Provides clear and simple actions which help people take their next step in improving the quality of life and improving the environmental impact of their community.
Facilitates a transition towards more sustainable communities, from home to home, block to block and neighborhood to neighborhood.
Develops a robust social engagement network around sustainability, building social capitol and creating a space in which sustainable solutions flourish.
Furthermore the Neighborhood Enrichment Program focuses on youth learning and empowerment as a strategy to transform the world.  It does this by:
Creating clear paths for youth to create and take leadership roles in their community
Mentoring and coaching emerging leaders as they develop a better sense of their own power to be effective change agents
Developing and implementing programs led by youth and tied to their educational experience
Recognising youth as integral members of our communities and as assets to society
Engaging youth as facilitators in community-based decision making processes
Building bridges between faculty, staff, and students leading to mentor-mentee relationships
What is the Community Enrichment Program?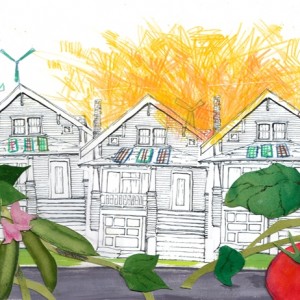 The design of the Community Enrichment Program allows for it to be adapted, scaled, and replicated to increase its effectiveness and reach over time.  It creatively draws from diverse areas of cutting edge social innovations to addresses root causes for our deteriorating social and ecological communities.
Asset based planning is used to develop specialized Community Enrichment Programs based on the resources available to any given community.  This approach allows for a diverse array of existing resources to be creatively aggregated into a single effort.  The Community Enrichment Program model creates a more accessible and connected community by:
Meeting community members where they are at, by going from home to home, and having discussions about what they have done and would like to do to live more sustainably.
Inviting people to take a couple next steps as part of a Community Challenge, which connects them to resources that exist to help people in their community take those steps, and others in the community that are trying to take the same steps.
Building a more robust social support network, where people are connected to each other and to community-based organizations, working together to create a more sustainable community.  In addition to making these connections, people will have already taken a few tangible steps toward this vision together.
Empowerment and transformative leadership practices employ a combination of peer to peer support networks, coaching and mentoring, and providing effective tools which have the potential to harness the transformational growth of an individual, tie it to the growth of others, and ultimately manifest this growth in a way that transforms and inspires the world.  The Community Enrichment  Program model creates an empowering and transformative experience for coordinators, supporters, and participants alike through:
Empowering students and youth to take the lead as conveners and connectors in their community while building in intentional learning moments that enhance the student experience.  This links students' preparation for the future more intrinsically with their role in creating it.
Partnering with faculty and staff at universities to provide opportunities for them to mentor and coach students along their path as emerging change leaders. This provides a venue for them to connect more deeply to the responsibility of educational institutions to prepare students for the future, and also to their responsibility to prepare a future in which these students can thrive.
Engaging with the community at the local, state, regional, national, and international level to create a support network for emerging leaders to inspire and assist in creating change in our broader communities.  Doing so helps this change to grow outward from ourselves, to our homes, to our neighborhood, and ultimately throughout the world.
What is happening during Summer of Solutions?
The Community Enrichment Program is a model that allows for mutually beneficial and cross sector collaboration that creates holistic and effective solutions to be built.  Portland Summer of Solutions will play a key role in engaging Portland residents to transform our city into one that is more sustainable, just, and prosperous for all of its residents.  As a result of this program, a foundation for shared learning and innovation between campuses and communities in Portland, and beyond, will be built.  Portland Summer of Solutions participants will:
Engage with residents of a Portland neighborhood using the Neighborhood Enrichment Program
Host community events and attend events hosted by community groups
Build stronger partnerships with Portland-based sustainability organizations, city government, and educational institutions
Participate in a regional peer-to-peer network of support and learning (coordinated with help from the NICE)
Help adapt and improve on the Community Enrichment Program model and resources to aid in this program's replication
Have a blast getting to know each other and exploring Portland and Oregon!
We are looking for a new program leader!
Do you care about connecting local residents to development plans?  Do you love engaging with communities to foster action towards a more enriched and sustainable life for all?  Do you seek to empower yourself and your peers to be effective change agents?  You do!?  Perfect, that means you might a wonderful fit for our team!
We are looking for dedicated and self motivated individuals who either live in Portland, Oregon.  We might also be able to accomodate non-Portland residents who are able to take on specific projects in relation to planning a Summer of Solutions 2012 in Portland.  To do this you would have to be able to commit to completing these tasks and communicating with the rest of the Portland team via email, google documents, and 1 on 1 calls (ie: no conference calls).
If this sounds like you, apply to join us for the 2012 summer!
Donate online to the Portland Summer of Solutions Program
You can also donate by check to the Portland program by sending a check addressed to "Grand Aspirations" with "Portland SoS" in the memo to:
Grand Aspirations
413 Wacouta St. Suite 400
St. Paul, MN 55101