Build It Up East Tennessee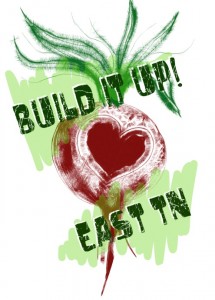 About our program
Build It Up East TN is creating and supporting a comprehensive food justice program in East Tennessee through reclaiming local food culture. Our summer plans include:
Hosting workshops to increase skills and raise awareness on how social inequalities impact food insecurity. We are utilizing the traditional cultural knowledge of this region to foster empowerment of the local community. We will spend the summer providing accessible workshops on traditional food preservation (canning, pickling, wild crafting, etc.) hosted by community members themselves. These food justice workshops will also cover issues of food insecurity as it relates to race, gender, the environment, and Appalachian cultural history. Members of the community who are directly impacted by these issues will help teach and facilitate these workshops, thus bringing together various communities of people in the region.
We also plan to use the expertise of neighboring organizations and community members to implement and assist with several community gardens which will help us provide fresh produce to our local food bank while also allowing for skills-training for people in the community.
Our program will culminate in a cross-region tour of a "Holler to the Hood" project that will connect rural and urban communities through sharing current work and ideas on food justice.
By bringing together members from diverse communities to create a sustainable, agricultural based economy, Build It Up East TN intends to reclaim our region's food sovereignty and revive the spirit of independence in Appalachia. Through this work, the program will address multiple issues of food insecurity simultaneously by empowering local community members and giving them the tools and resources to reclaim local, regional, and individual food sovereignty.
Please visit our Facebook page to keep up to date on current news and events!
https://www.facebook.com/BuildItUpETN
Donate To Us!
Steering Committee Members and Bios
Lexy Close is a native of Johnson City, Tennessee where she lived until she ran off to college in Massachusetts.  She became interested in International Development and eventually completed an undergraduate and Master's degree in the subject at Clark University.  Her focus was on the social aspects of health and the HIV/AIDS epidemic.  During the intense process of writing her Master project, she found herself more and more interested in cooking, food production and brewing.  Emotionally and mentally worn out by academia, she once again fled, this time to Europe where she volunteered on organic farms in Italy, the UK and Belgium.
Upon returning home, she spent more time on an organic farm in Virginia and sold produce weekly at a local farmers market.  Thoroughly in love with food and farming, Lexy was until very recently still trying to figure out what she was going to do with her life when the opportunity to work with Build It Up East TN presented itself.  Lexy is very excited by the chance to combine her academic knowledge with her passion for sustainable agriculture and hopes that together with Build It Up and the greater East Tennessee community, a brighter future is possible.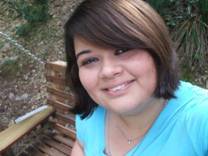 Heidi Davis was born in Germany (long story). Her home town is Erwin, TN. She has a degree in Human Development and Learning with a focus on Early Childhood Development. Heidi's research areas are how social programs affect learning in public schools, the effects of poverty in education, the effects of long-term, systemic poverty on populations, and she has recently added the War on Poverty in Appalachia and Appalachian history and culture.
Currently she serves as the liaison for the Petersburg Project at the College of William and Mary. Heidi works with several nonprofits, the local churches, different colleges on our campus, William and Mary students, people at Richard Bland and people at Virginia State University and somehow gets all of them on the same page to work on capacity building projects in Petersburg to address the various community needs. She is grateful to have a job that stretches her so much. Back home she worked in a similar way with several local agencies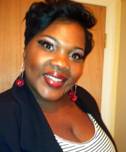 Annika Hampton was born and raised in Chattanooga, TN. She  has a BBA in Economics and a Master's of Public Administration in Economic Development and Planning. She currently serves as the Tourism Director in Elizabethton, TN. Annika is interested in research and work around food deserts, food policy, sustainable agriculture and environmental issues, urban farming, and education of food alternatives.
Veronica Limeberry was born in Asheville to deaf parents, and raised in Western North Carolina until she moved to Johnson City, TN about 7 years ago. She has a BA in Women's Studies and Political Science with a concentration in International Relations and is currently working on two Master's degrees: a Master of Arts in Liberal Studies in Gender and Diversity Studies and a Master of Public Administration in Economic Development and Planning. Veronica's research interests are empowering rural women while reclaiming food sovereignty.
She has done an internship under Dr. Vandana Shiva at Shiva's sustainable farm in India; she studied sustainable coffee and macadamia nut agriculture in Guatemala; and most recently she worked with indigenous Quechua market women in Peru. Veronica has also spent the last year working with and interviewing farmers in Washington, Carter, and Unicoi Counties of Tennessee. She also just finished a project with the Appalachian Teaching Project to develop a sustainable agriculture agritourism plan and Local Food Guide for Unicoi County. Otherwise, Veronica has a history of community organizing on campus (especially through our feminist organization) and working with English as a Second Language youth.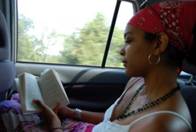 Ash-Lee Woodard Henderson Story attended East Tennessee State University, majoring in English and minoring in African and African American Studies. She has served in positions of leadership for many organization including being the former Organizational Liaison for the Initiative for Clean Energy at ETSU, former vice-president of the Feminist Majority Leadership Alliance, past president of the Black Affairs Association and the Rho Upsilon Chapter of Delta Sigma Theta Sorority, Inc.
She is a past student representative on the ETSU Race Relations Dialogue Taskforce and the President's Council on Cultural Diversity, the ETSU Sustainability Committee and served on the Planning Committee as a student site leader for ETSU's Alternative Spring Break Program. Ash-Lee has also been an active member of LGBTieS, the Alpha Theta Chapter of Iota Iota Iota (Tri-Iota), and is a co-founder of the Progressive Student Alliance at ETSU.
She has extensive knowledge of the use of community organizing and is a former staff member of the Chicago SNCC (Student Nonviolent Coordinating Committee) History Project. She is a past member of the United Students Against Sweatshops National Coordinating, Political Education and Collective Liberation Committees. Additionally she is a long-time activist working around issues of community empowerment, environmental destruction, mountaintop removal mining, and environmental racism in central and southern Appalachia, and has served on the National Council of the Student Environmental Action Coalition. Ash-Lee is currently a staff organizer for United Campus Workers, Tennessee's only union for higher education employees, and serves on the Board of Directors for and organizes with Chattanooga Organized for Action.
Not pictured: Stephanie Langley, Allison Stirling, and Rachel Wheeler.
Logos and artwork by Steven Andrew Garnett