Grand Aspirations is pleased to announce our spring webinar series: Building Your Toolkit. This series of webinars focuses on building some basic and advanced skills in your solutionary organizer's toolkit. From fundraising to movement strategy, this series is a chance to grow your ability to create real change in your community. Check out the five webinars offered below. Every webinar is at 9pm EST/8pm CST/7pm MST/6pm PST on a Tuesday.
All webinars are now 2 for 1! Purchase any one webinar and get a second one for FREE! Email ruby.levine@gmail.com to let us know which FREE webinar you want to attend with purchase of your first webinar.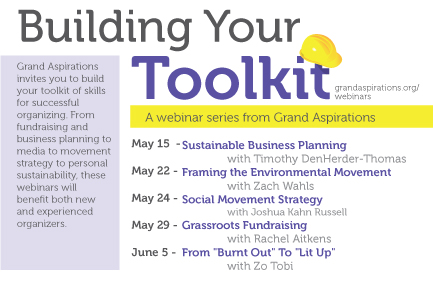 Members of Grand Aspirations at the $25 level or above receive $5 off each webinar as well as many other benefits. Become a member today!
Note that the time of Joshua Kahn Russell's Social Movement Theory has changed to Thursday, May 24.