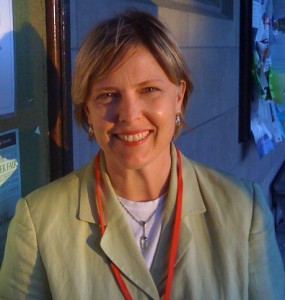 Carol Moakley has 20 years' experience in the non-profit sector, which includes direct services and administration of various health and human services organizations.
She has a B.A. from Earlham College and an M.S.W. from Washington University.  Currently, she manages career advising for undergraduates and alumni of Washington University in St. Louis.
She brings with her to Grand Aspirations passion for working with young people to release their potential and promise for world-changing leadership around environmental issues, as well as previous board experience. She's truly excited about this journey!
Outside of work, Carol loves spending time with family and friends — especially her dear husband, Brien, and their big Golden Retriever, Ella.  A few things she enjoys: writing, kayaking, tennis, walking and gardening — movies, reading, and singing.  She also spends time co-directing Summer Seminars for Women, an annual program held in Michigan and sponsored by the American Youth Foundation.