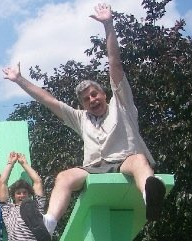 Lynn Hinkle lead the UAW Local 879′s "Green Plant, Green Product " efforts to convert the Twin Cities Ford Assembly Plant prior to 2006.
Since then, Lynn has continued to work with a broad local coalition ARISE (Alliance to Re-Industrialize for Sustainable Economies) to redevelop the Ford manufacturing site in St. Paul as a mixed-use, carbon neutral community that incorporates green manufacturing, high performing homes, and mass transit powered by on-site non-carbon energy.
Lynn is currently Policy Director for the Minnesota Solar Energy Industries Association (MnSEIA). Lynn has worked with the participants and leaders of the Twin Cities Summer of Solutions for two years, sharing his work, his souls, his passions, and the fruits of his garden.