Summer of Solutions: Burlington, VT

Location and partners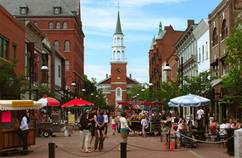 The Lake Champlain Region is unique not only in New England but in the entire United States. Perhaps no other place in the country so gracefully combines rural charm and historical tradition with easygoing, friendly sophistication.

Bordered by the magnificent Green Mountains to the east and stunning Lake Champlain to the west, the region's natural beauty is unmatched. That combination of lake and mountains provides an equally matchless variety of outdoor activities and recreation.
Because the region is home to almost half of Vermont's population and more businesses than any other area in the state, it offers striking opportunities for employment, entrepreneurship, and education.
Finally, thanks to Vermont's world-famous reputation for environmental stewardship, it is certain that the Green Mountain State will remain just that-green-for a very long time.
Partners Include: The Vermont Sustainable Heating Initiative, an organization working to create a sustainable future by helping low income Vermonters transition to sustainable heating practices. This helps the families and lowers our states carbon footprint.